5 unobvious markets to target in 2020
The year 2019 in the mobile gaming industry was marked by several important events, among them a steady growth in the popularity of casual and hyper-casual games. According to the AppsFlyer report, in the Q4 of 2019, Casual and Hyper-casual categories saw 18% and 16% NOI increase respectively. The market is growing and refilling by new games, and this creates a high competition environment. User acquisition managers are fighting for the best ROI, and the lowest user cost, the most successful of them challenge their team to expand the business, entering new markets. And this is the moment when the manager is facing some issues: the most profitable countries as the USA are the most expensive ones. Which country should target a publisher with a tight budget? Which countries have the potential to pay more for mobile games? Apptica created a list of 5 countries outside your comfort zone, which tend to become a good traffic source in 2020.
Russia
Although Russia is considered as a Tier 2 country, it is a large territory where many mobile game lovers live. Many publishers have already remarked Russia - this follows from the Mobile Advertising and Market Intelligence report for Q3 2019: Russia ranks second right after the United States in the list of countries with the largest volume of ads in mobile games (Android). Russia is also #9 contributing country in the App Store. All this makes Russia a mysterious but promising market.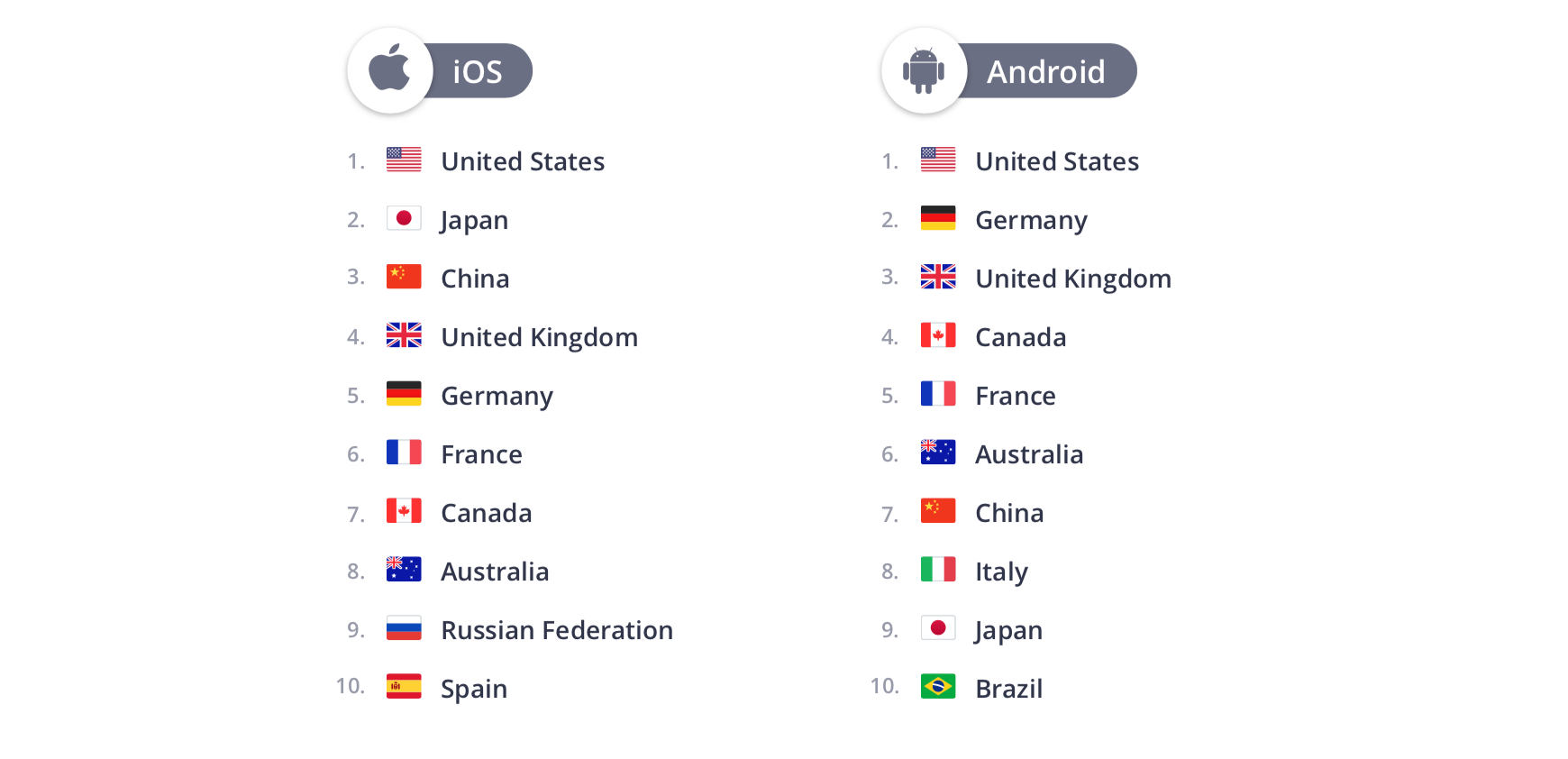 Middle East
The Middle East is showing a great opportunity for gaming, says AppsFlyer. Saudi Arabia and Egypt are among the fastest-growing markets in Hyper-casual and Midcore categories. In the spring of 2019, Apptica noticed that advertising spending in the region grew strongly compared to 2018, which means that the market attracts large advertisers who are willing to invest in user acquisition.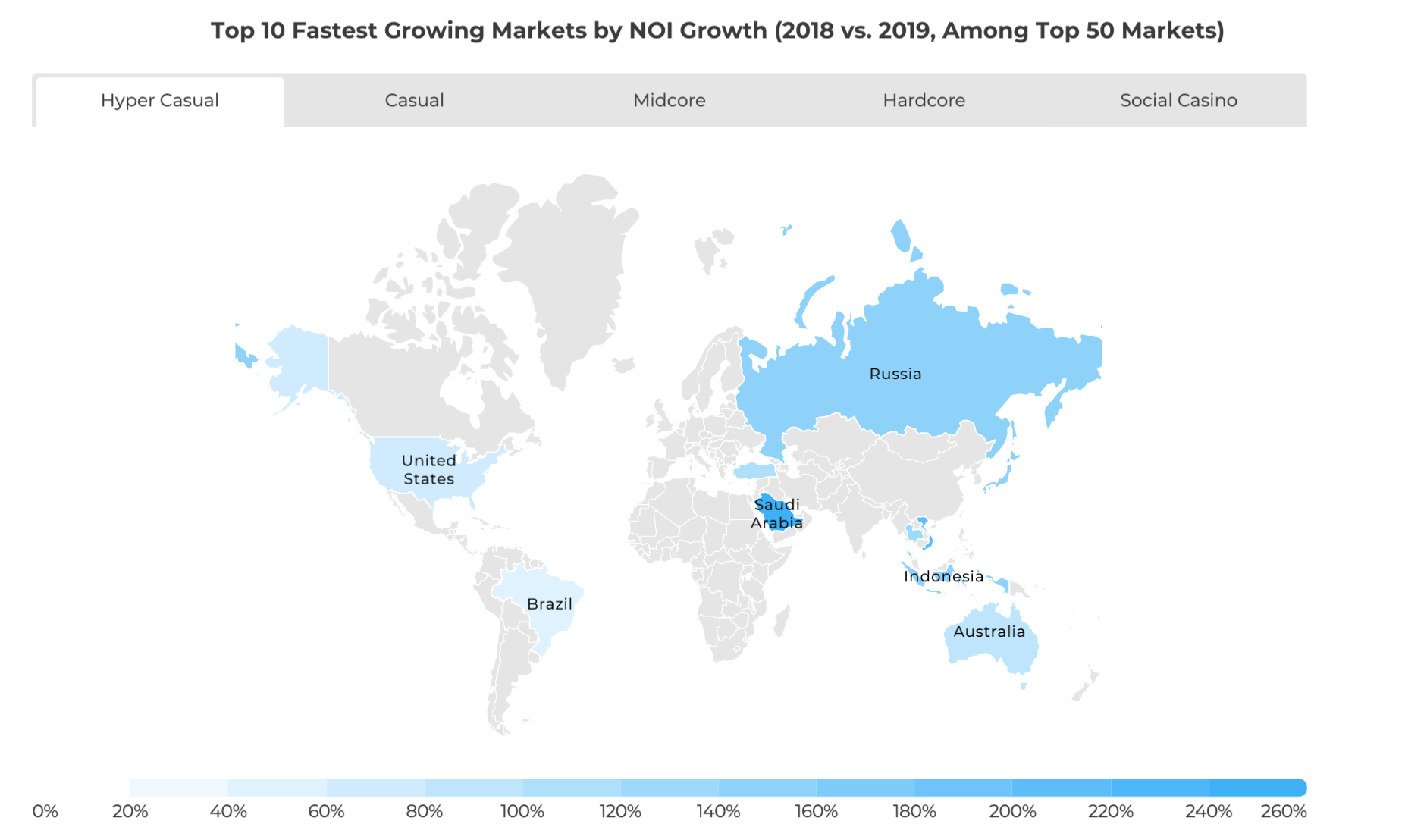 Australia and New Zealand
Australia and New Zealand as all English-speaking countries are pricy to buy traffic in. However, specific categories of games may benefit more from these countries than others. Surprisingly, Oceanians are big fans of mobile casinos. According to the latest statistics, 5 applications in which the residents of Australia, New Zealand, and Indonesia spend the most money are:
Slots: Heart of Vegas™ – Free Slot Casino Games
Lightning Link Casino – Free Slots Games
Slotomania™ Slots Casino: Vegas Slot Machine Games
Tinder
Cashman Casino - Free Slots Machines & Vegas Games
Of the 5 most gainful applications, only 1 is not a casino. Thus, Australia and New Zealand, although they are not unobvious countries, they perform surprisingly well with mobile Slots games.
Latin America
According to AppsFlyer, Brazil is the top growing country in 4 of 5 categories (Hyper-casual, Casual, Midcore, Hardcore, Social Casino). Other LATAM countries perform well too: Mexico in Casual, Colombia, Chili in Midcore, and Colombia in Hardcore. When expending the search to the LATAM region, publishers find users with unique behavior and the potential to download and play mobile games.
In-app advertising in Latin America - read the overview 📚
Netherlands
When it comes to the soft-launch, many gaming publishers choose Canada due to it's cultural and behavioural resemblance to the US. Although Canada isn't a cheep country to run advertising in, so publishers with no big budgets may pay attention to the country that has been similarly influenced, for example - Netherlands. Almost the entire population of the Netherlands speaks English, and the Netherlands is a European business center, where people from different countries come to work, which creates a multicultural background. At the same time, advertising in the Netherlands is much cheaper than in Canada: in December 2019, an average CPI in  Netherlands is $0.90 against $1.33 in Canada.

User acquisition in 2020: targeting
The "right" decision on what kind of market to target for your mobile application depends on many things and could change over time. Testing several different UA campaigns is commonplace and can boost monetization. Pick the best market that brings quality traffic with the lowest CPI and flows with the features and function of your app.
Apptica Intelligence gives you an all-round view and easy access to mobile market insights. Our downloads & revenue estimates include data for 35 countries in App Store and Google Play. To get more details and improve your mobile business, sign up for the platform.