Mobile Video Ad Creatives: Western and Eastern Countries
The key to effective in-app advertising is a well-thought-out ad creative. Static banners, videos or even playable ads can noticeably boost conversions if they are made properly and with the audience in mind.

Users from the different regions of the world perceive ads differently because of the peculiarities of the culture and the environment around them: you should keep that in mind while making advertising creatives for your game or app.

In this article, we are going to compare the best performing ad creatives in video format that are served in Western and Eastern countries and identify the main differences in them.

Types of Ad Creatives

There are three types of creatives which are used for in-app advertising:

Banner ads – advertising creatives in a form of static images;
Video ads – short clips from 5 to 50-60 seconds long, depending on the platform and the final goal;
Playable ads (or interactive ads) – ads in an interactive format that allow users to try a game or an app without leaving the publisher's application; usually the user's attempt is limited in time or number of actions.
What Type of Ads is the Leader?

Let's see what types of ads prevail in Western and Eastern countries in Q1 2022: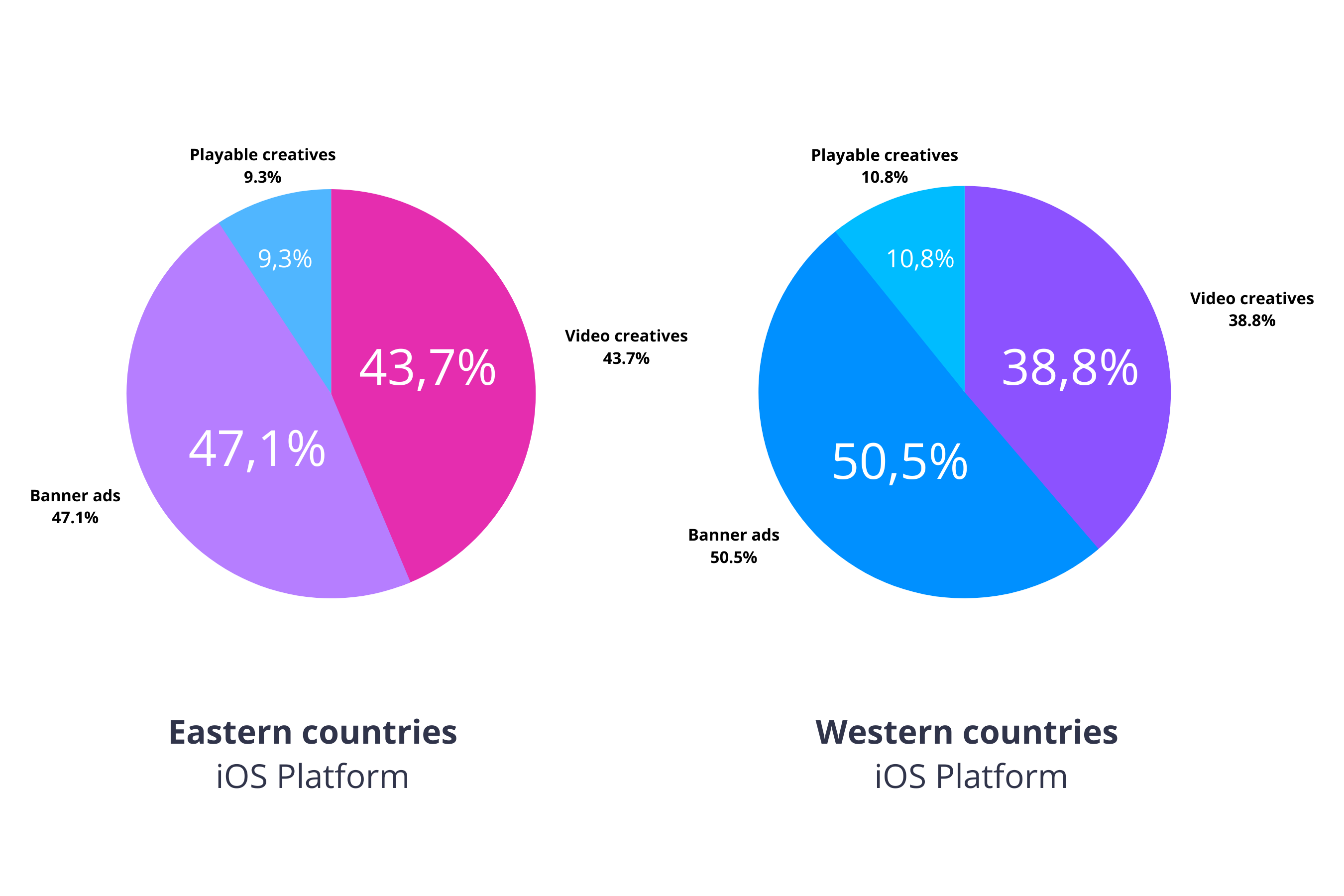 As we can see, banner ads prevail on both platforms and in both regions. However, advertisers that place ads on Android platform prefer a simple banner format: in Eastern countries, the percentage of banner ads on Android is 74,3%, and in Western – 75,5%.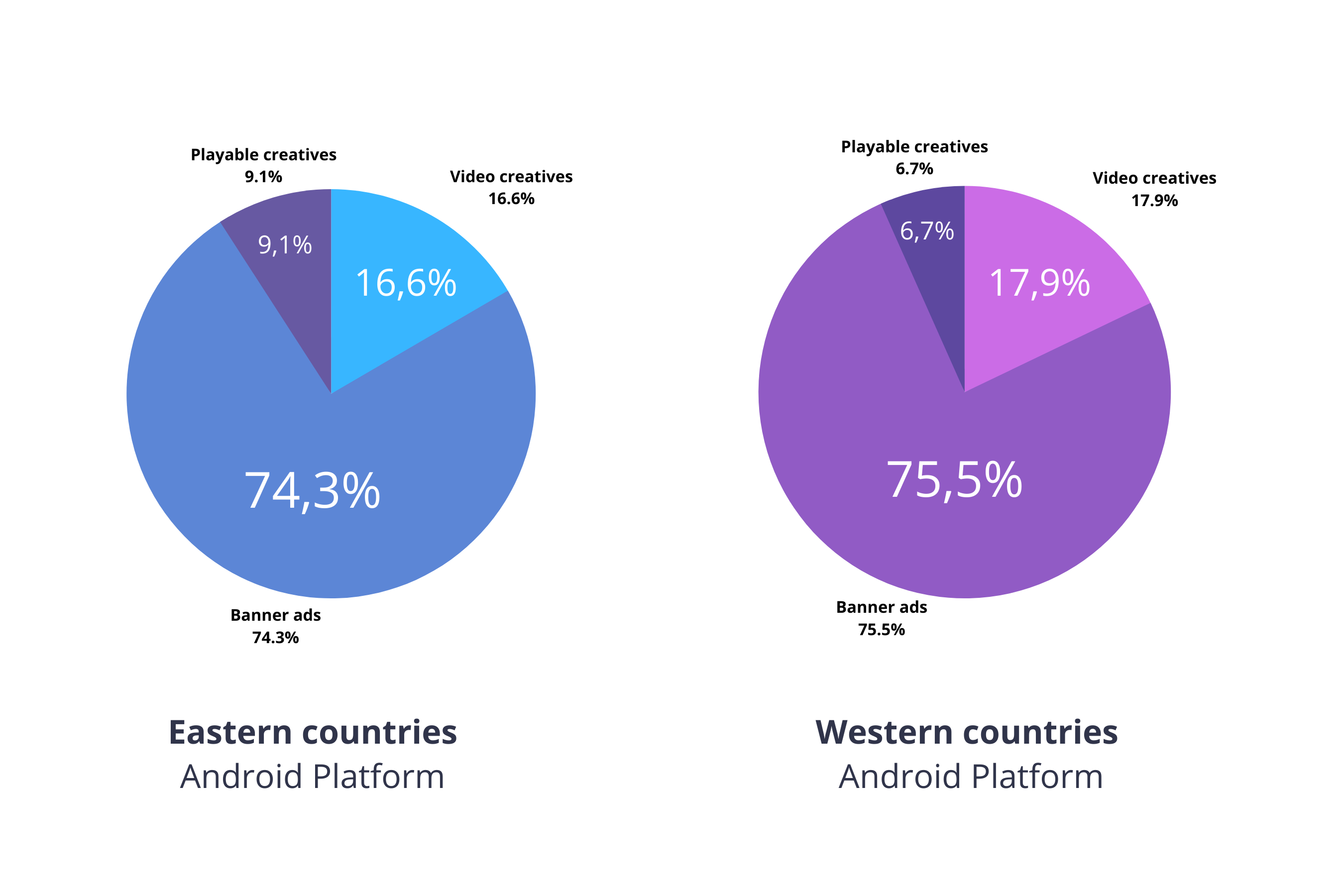 On iOS platform, the situation is a little bit different. In Eastern countries, the percentage of banner and video ads is almost equal (47,1% and 43,7%). In the Western part of the world, banner ads take more than a half of all the ad creatives that performed in Q1 2022.
In-App Advertising in the Eastern Countries

Fortunately for those who wanted to see examples of mobile ads from the very beginning, now we are moving on to the practical part!

Creatives made for Asian countries are significantly different from ones that are made for Western part of the world because:

Most shared ad creatives in the Eastern region belong to casual games (mostly match-three titles), strategy games, shopping apps and various social networks:
2.  Ad creatives that perform in Asian countries tend to not only demonstrate the mechanics of the game, but also add some action:
3. These ad creatives are more sophisticated: they include more elements like animation, live acting, storytelling, dialogues and many others:
4.  Also there are lots of popular typically Eastern elements in these ad creatives. For example, in ad creatives made for Japan market often appear anime-style characters, and in the creatives that are oriented on other Asian countries we can see elements of their pop culture, national costumes on actors and so on:
Advertising Creatives in the Western Countries
Let's move on to the features of mobile ad creatives made for European and North American countries:

Most shared ad creatives's advertisers are casino and casual games (especially match-three and arcades):
2. Ad creatives for games made for Western audience mostly show the gameplay:
3. In general, these ad creatives are less sophisticated than eastern ads: they are bright and colorful, but well thought out storylines or people acting on camera are much less common for the Western advertisers. Nevertheless, sophisticated creatives can be also found sometimes — for instance, this is one of the best performing ad creative in European and North American countries of Q1 2022:
Want to see ads of your competitors and see how they perform? Request a demo and explore Apptica's Creative Gallery with millions of ad creatives!