Image of woman in Ads 2018: best and worst creatives
The 8th of March we're celebrating International Women's Day! On Friday, people from all over the world will be saluting womanhood, equal rights and beating gender stereotypes what actually became a real trend in 2018. How «Weinstein effect», #MeToo and #Timesup social movements influenced the modern market of Advertisement? Do successful companies use the image of a strong woman in their ad, or the image of a girl in a bikini next to a sports car is still considered as the most catchy advertising? Let's see in Apptica's review!
Over the past 100 years, in most countries, a woman has not only gained the right to vote, drive a car, be a politician but has also experienced a crisis of "objectification" and "sexualization" in Advertisement and media. You may know this clearly sexist Ad from the 50s when a woman was considered as submissive and weak or the one from the 90s-00s, with the naked female body being everywhere and not perceiving as something offensive.


Today that Ad is seen as terribly insulting and this is an example of how society's norms and values have evolved. There still may be naked women in Ads but now people talk about it and express their disapproval. And marketers and PR managers that are listening to the market, hear what the market is trying to tell: woman's image in media should be changed.
One may say that all publicity is good publicity and could be right. Just look at Burger King, posting "controversial" Ad time and again. Despite all moral duties their Ad apparently makes a lot of noise and attract some attention to the brand.
Nowadays it's a question of being polite or being effective. Whatever advertising you choose, it should work. And the question we asking here is does sexist Ad work in 2018? Will see.
Games
In 2018, games are no longer only male territory. Women play games and they are good at it - we can see this message in beautifully made Ad of "Vikings: War of Clans"
"Get over it and take your revenge" says Ad showing 2 men completely defeated by a woman in the mobile game.
Revenge theme is widely used now as a subject of games advertising.
Here is another video posted by "Vikings"
And here are several creatives from "Coin Master" - 2nd line in Top Free Casual Chart of Google Play in the middle of February in the US.
In the Summer of 2018 "Coin Master" released a few videos for Australia and New Zealand featuring 2 guys playing Coin Master, one of them representing a woman.
Well, this Ad is...grotesque but let it stay on creators own head and let's take a look at the latest bunch of video posted in Netherlands and UK: here appears that "revenge theme". Somebody's girlfriend destroys the village and guy's called for taking his revenge.
A woman is strong and powerful now but you still have to beat her :)
RPG
A unique game category is Role-playing. There are many desktop RPG's, among them iconic ones as World of Warcraft, Diabolo, The Witcher etc, but unfortunately, role-playing category in AppStore and Google Play doesn't contain such proper games. RPG applications are way more simple and mostly simulate some situations where a user should make a choice. Some of them are kind of provocative what defines the Ads. A woman in this Ad is always weak, sensitive and silly.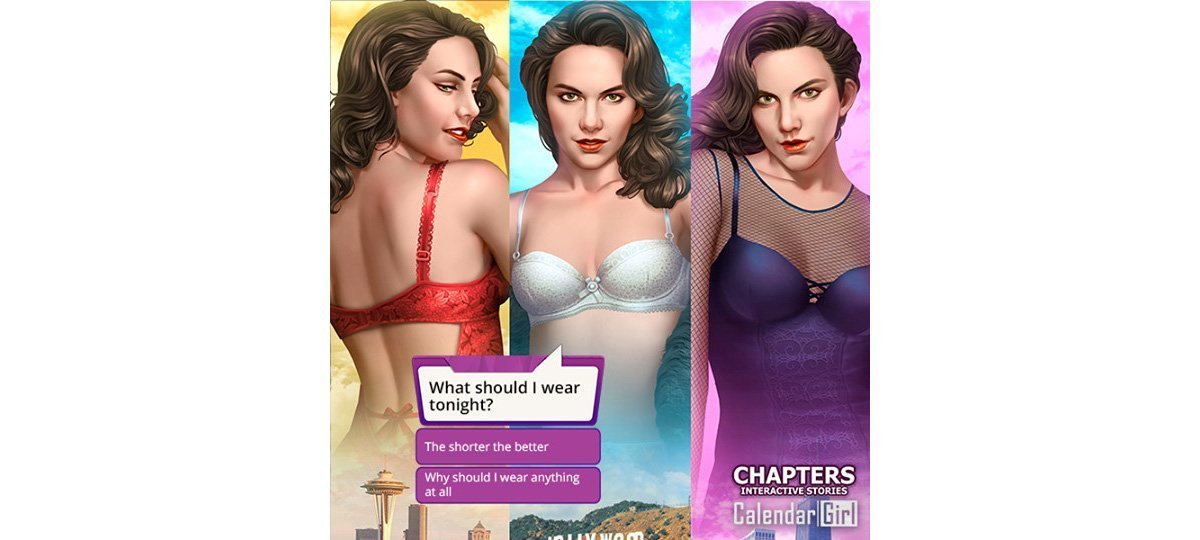 One can say that nudes do make sense here because it's an romantic role-playing game. But still, those images are quite sexist.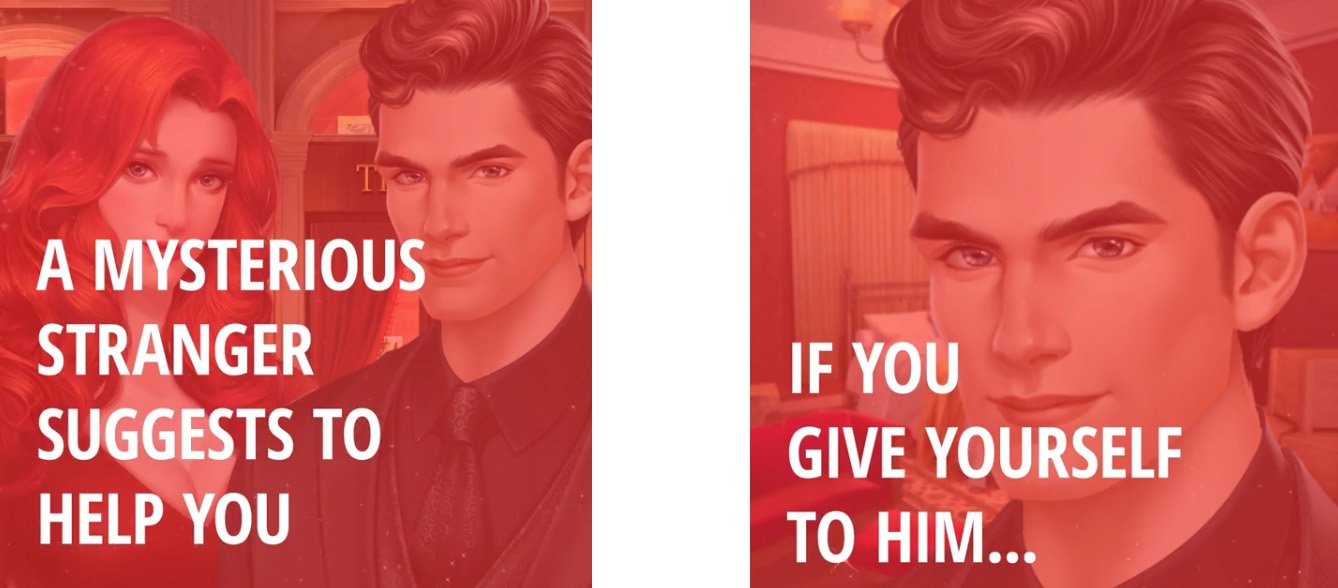 Here's something diverting: 85% of users are women. Well done, Chapters.
Seems like almost all applications in the Top 10 Chart in a role-playing category are operating gender relations topic. Here is Hustle Castle app, line 10 in Google Play Top Chart in the US. This is more like an adventure game, but they are still representing girls in their Ad.
The bottom line:
revenge theme is widely used in games Advertising
a woman in advertising often appears to be weak and needs to be protected and saved from a monster
and despite the fact that sometimes this advertisement can be sexist, applications are very successful, as they appeal to simple human emotions
Dating Apps
It's hard to imagine an Advertising of Dating App that doesn't use male/female patterns. However, this can be done in different ways.
Nice example here is a Bumble app - dating app №2 in the US in March 2019.
Bumble is proclaiming to be the app where women make the first move and the Ad corresponds that image of a strong and confident woman.
Here is the video made by Bumble team featuring Priyanka Chopra - Indian actress, singer, and model.
The video's followed by the hashtag "equal not loose"
And here is the bad example: Asian dating app "95 live" that is proclaiming to be "nothing less than Okcupid , badoo ,Cheers or any other dating app".
Bikini girl and a sports car… really?
However, not only dating apps using a romantic image in their Ads. Here are a few more examples
"Take yourself on a date" with food delivery service Postmates
Dad is babysitting while a woman working in the office by Google Duo
So what was the recipe of good effective Ad in 2018? A naked female body or a girl power? It's totally up to you. The world is changing and the one who fits the best will be successful. Try different, be kind, smart and creative and we will see you on top. Happy Woman's Day!
Truly yours,
Apptica team