Top In-App Advertisers of Q4 2017, Android, Application Category. Apptica Overview.
Welcome to Apptica's Top 10 in-app Android advertiser list in non-gaming application category for the Q4, 2017
Information is based on ad impressions and accurate for Application category.
As we may see, situation with Top 10 advertisers is more stable in non-gaming category, in comparison with gaming one, where in Q4 we see a lot of changes.
Leading positions keep IQ Option broker: trade forex, CFD's, bitcoin (Application, Finance) by IQ Option and Z Camera - Photo Editor, Beauty Selfie, Collage (Application, Photography) by GOMO.
Stable top 10 in Q4 have:
• AppLike - Apps & Earn Rewards, Applike Company (Application, Entertainment)
• Autodoc — High Quality Auto Parts at Low Prices, Autodoc GmbH (Application, Shopping)
• Lazada - Online Shopping & Deals, Lazada Mobile (Application, Shopping)
In November 2017 move to the Top:
• Google Duo, Google LLC (Application, Communication)
• CM Launcher 3D - Theme, Wallpapers, Efficient, Cheetah Mobile Inc (Application, Personalization)
• Libertex, Libertex International Company LTD (Application, Finance)
New advertisers appear on the Top in Decemper 2017:
• Google Opinion Rewards, Google LLC (Application, Tools)
• ABN AMRO Grip, ABN AMRO Bank N.V. (Application, Finance)
During the Q4, unstable Top 10 positions have:
• Libertex - online trading: Forex, Bitcoin & CFD's by Libertex International Company Ltd. (Application, Finance)
• OlympTrade by Olymp Trade (Application, Business)
• Facebook by Facebook (Application, Social)
• Uber by Uber Technologies Inc. (Application, Maps and Navigation)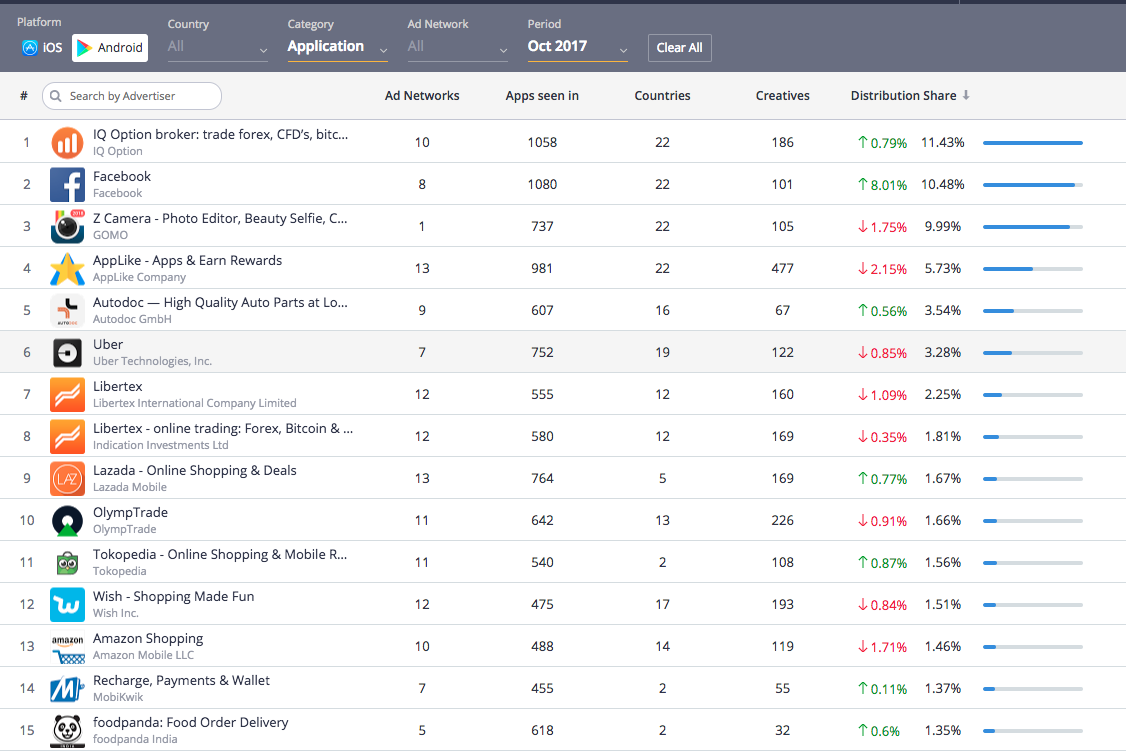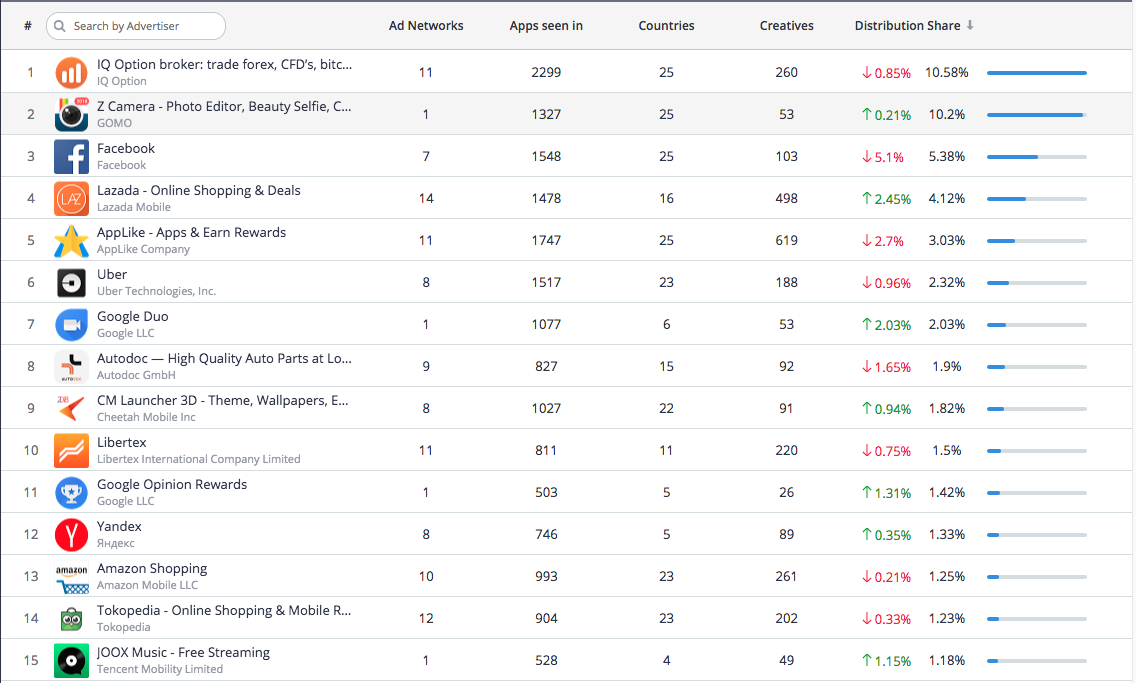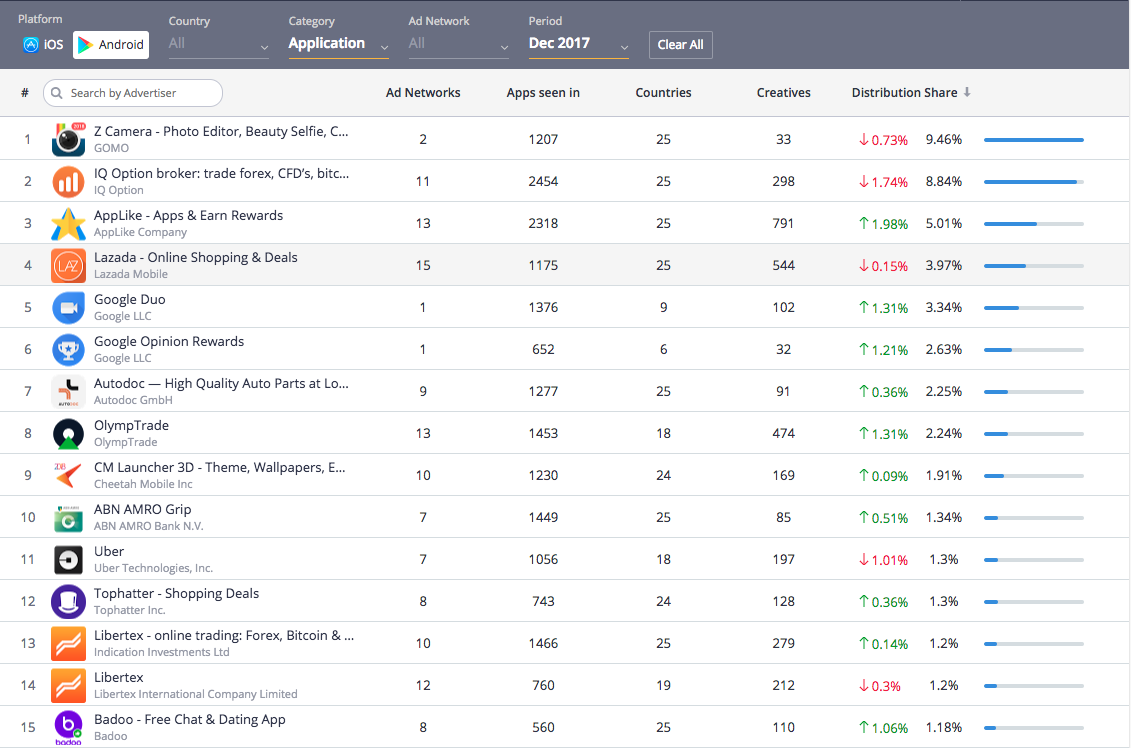 As we may notice, most Top in-app advertisers compete in "Finance" category.
Advertiser's strategy overview
Let's analyze deeper ad campaigns of Z Camera - Photo Editor, Beauty Selfie, Collage, Top leading in-app advertiser of Q4:

Store category - Photography
Store rating: 4,4
Installs: 100,000,000 – 500,000,000
Offered by GOMO
Countries:
Ad campaigns were mostly seen in Netherlands



In-App Traffic source:
Ad campaigns for the Q4 were mostly seen in the following application: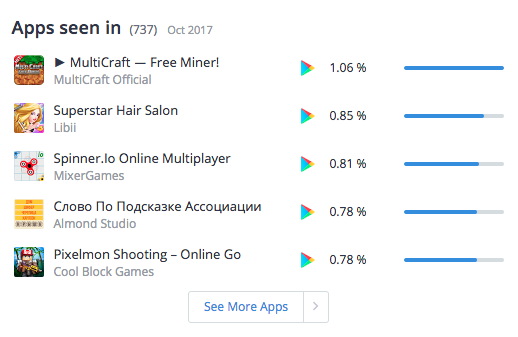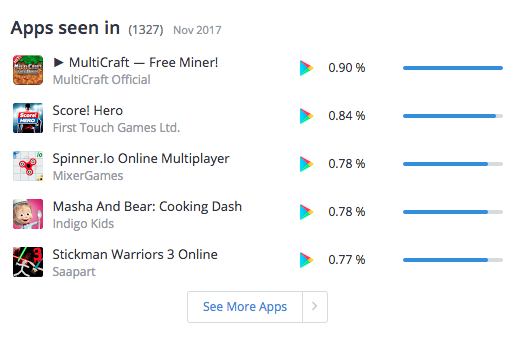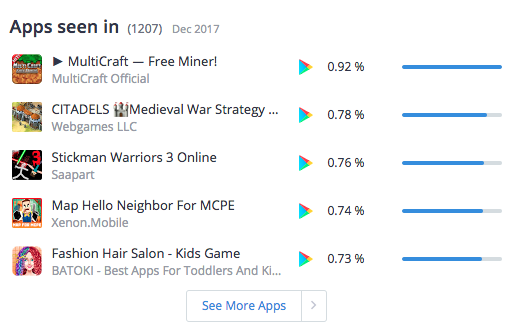 Ad Creatives:
Ad creatives were mostly seen through Applovin
Top Ad format is – Video Interstitial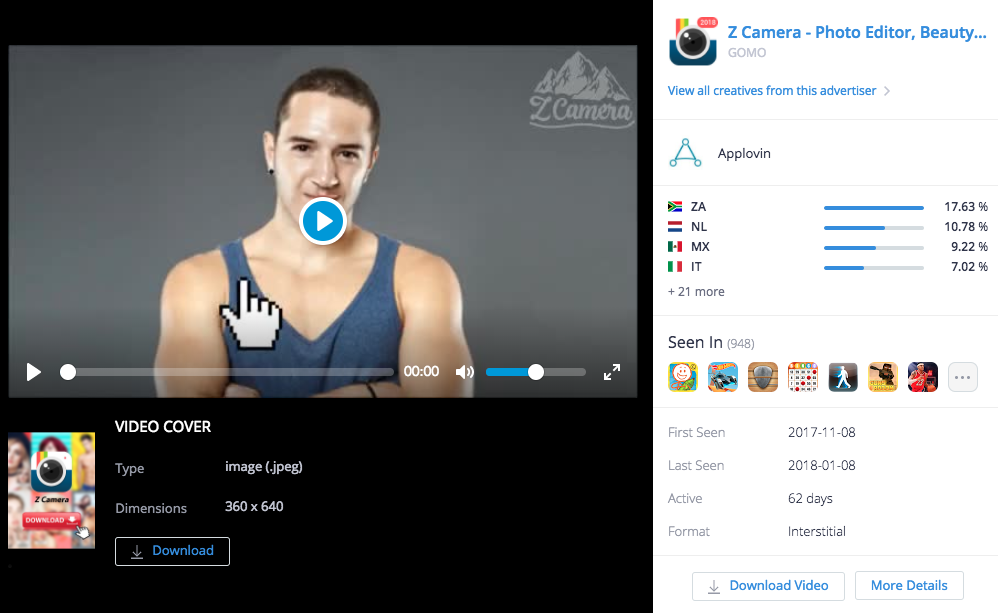 Thank You!
We hope you enjoyed Apptica's overview. Get more in-app advertising insights at Apptica.com