How to Target Your Mobile Ad Network to Reach the Best Customers
Google will go so far as to tell you that in order to make a success of things, you should reach the right audience at the right moment. This isn't exactly breaking news and is actually a lot easier said than done.
People spend more than five hours a day on their smartphones, according to a recent study from 2017 at Flurry. Users spend this time between new and old app experiences, so there's a lot more to compete with than ever before. In order to capitalize on this, you should have a mobile ad network that you can target to get the customers that you need.
Let's dive a little deeper into some terminology.
What is an Ad Network?
It's a term that has been around since the beginning in digital media and marketing and is essentially a tech platform. Through this platform, sales of ad inventory between publishers and advertises can be managed and controller. It's almost like a broker that then collects a bunch of impressions from publishers and then puts them up for sale to advertisers.
📚 Read more: 4 Ways The Right Mobile Ad Network Increases Revenue
How Does It Work?
Ad networks facilitates the interaction between advertisers and publishers to create a better relationship. The ad network aggregates a number of publishers to provide inventory to the advertisers on an auction basis. Through this, the advertiser can then set up campaigns, consolidate reports and run campaigns across ad networks. The advertisers then set up the parameters of the campaign and the publishers adds the ad network tags on the site. Then, when published, advertisers can rotate banners on the site by themselves.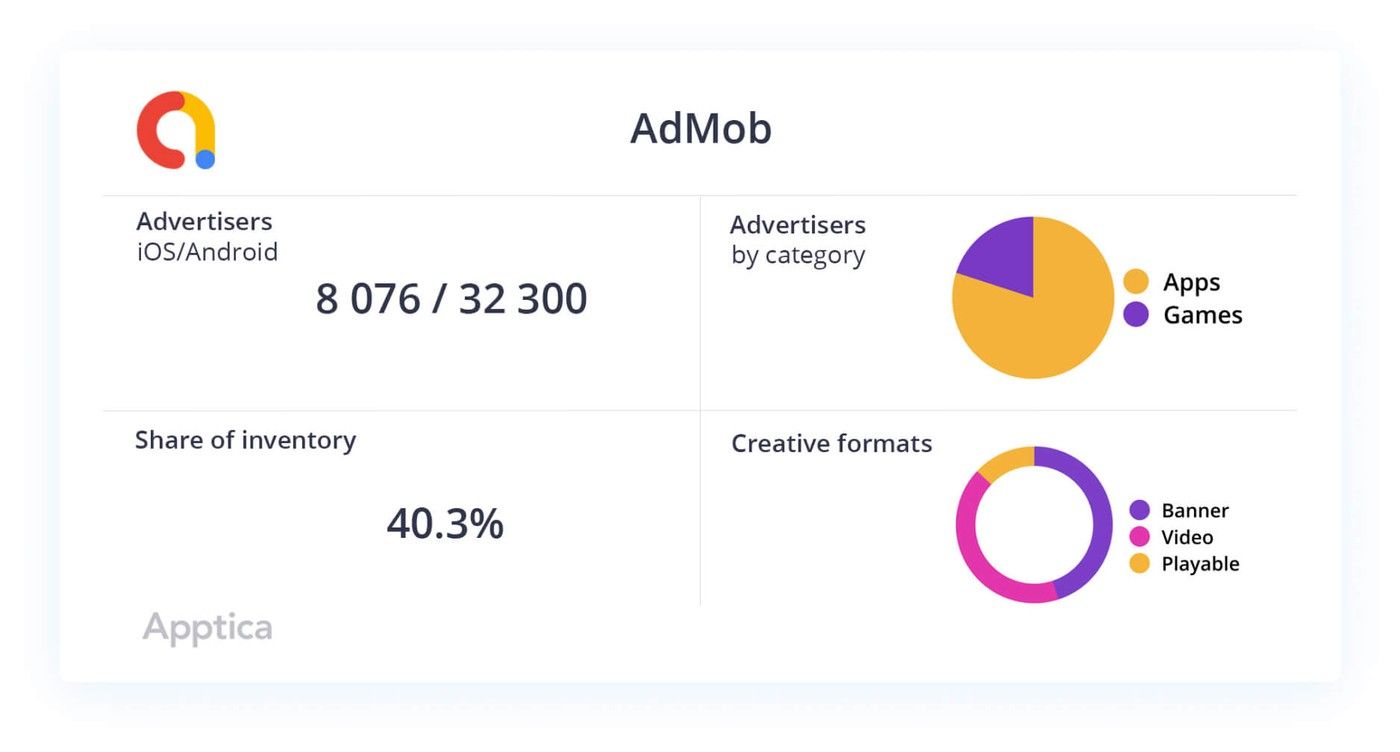 The ad network in digital marketing today is saturated with options and many buyers will promise high traffic at low prices. A mobile ad network such as AdMob, IronSource or even social media ad network ecosystems like Facebook and Instagram will be able to target specific channels and support different types of ad formats.
Using a Mobile Ad Network
Through a mobile ad network, developers can make use of the platform to monetize and grow. When a developer benefits from buying a mobile ad spot, they're already seeing a positive impact because the target audience is on mobile, so there's no need to switch mediums.
In addition, Statista reports that 34% of users upgrade from a free to a paid version of an app. This is a great way for developers to make money using their ad network, purely because you can rely on users to go for an ad-free version. It's a dangerous path to tread because CleverTap shows that almost 30% of users in America will uninstall an app if it has too many ads and notifications. This falls just below the 40% who uninstall apps that are not in use, so it's quite a significant number.
📚 Read more: The Ultimate Guide to the Top Mobile Ad Networks in 2020
Picking the Best Ad Network for You
When it comes to figuring out what the top ad network is, there's no magic answer that will steer you in the right direction. What you'd need to do is find out what fits your marketing strategy the best. Whether you're deciding to go for games or apps through a mobile ad network, and which format you'd like it in. Do you want an interstitial ad? Perhaps one that is just a banner, or maybe a video describing product or service. Whatever you decide, it needs to work.
AdMob is one such example, and with its creation in 2006, Google has seen a range of tools to give publishers the power to generate their own revenue from in-app advertising. As a direct opposite to that, IronSource puts more of a focus games rather than apps and spends the bulk of time putting out video ads.
Through social networks, Facebook is the king of kings and makes up about 35% of the in-app distribution. Users and developers can utilize Facebook as a monetization platform that anyone can use, giving them the power to target on their own.
Each and every application can be used for different purposes, and every single one will have unique features. Running tests for the same ads across different networks will give you the answer you need, and when the numbers are in front of your face, you've found the top ad network that works for you