How to reach Top Chart using the right paid-UA tactics
With the current plethora of mobile games in the App Store, rare publisher can only rely on App Store Optimization. Today, in-app advertising is the must-do approach to user acquisition which is effective and easy to track. However, the process involves so much testing and optimizing that somebody can find it overcomplicated. In this article, we give you a few great examples of how to master your mobile advertising campaign with less time and money involved.
The market is plenty of mobile advertising networks - ad mediators that provide advertisers with ad space within other mobile apps. Networks offer different types of cooperation and usually show unalike results for each app category. The main secret here is to have a look at the market and the closest competitors to unveil the strategy that helped the best of them to win.
Let's have a look at one of the latest stars in Top Charts - mobile game Save the Girl created by Lion Studios. For April 13, the app is the best free game on Google Play, and №3 game on the App Store, US.
On Google Play, the app has been launched on December 17 but hasn't shown any advertising activity till the very end of March. Around the same time, an active increase in application downloads begins, as well as a quick rise in the Top Charts. On App Store the picture is the same: downloads start to grow on the very same day as the in-app advertising launch.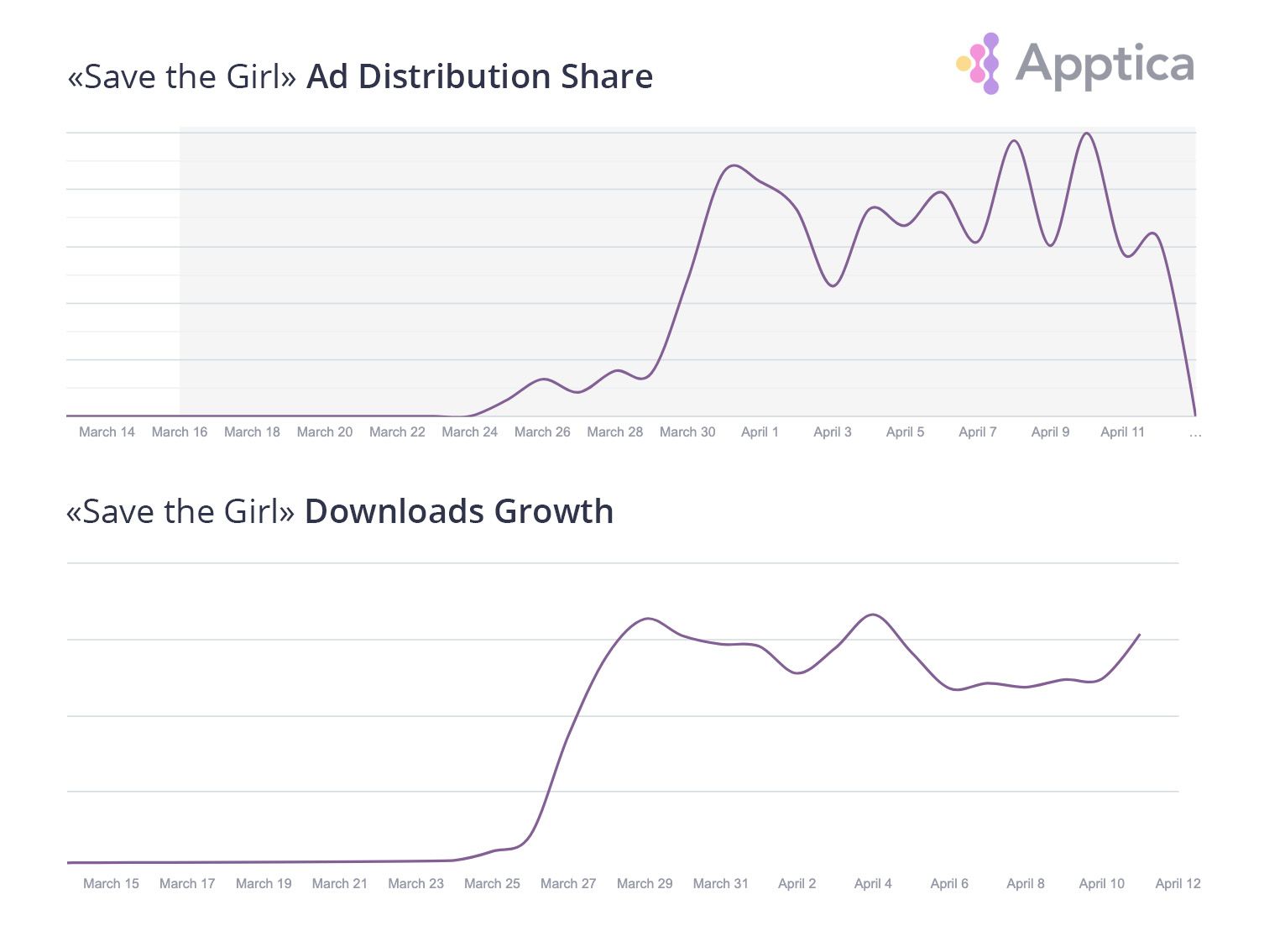 While working through the advertising strategy of the publisher, we see that the main Ad Network where the most ad was shown is Applovin. Save the Girl was also advertised through Chartboost and Social networks, a very small part of the ad was shown to user via AdMob and Unityads.
As for the geo targeting, the most ads has been shown in the US (29.34%). Don't forget that user behaviour depends on country, so you should carefully optimize advertising for each county and localise ads for non-english speaking countries.
Let's review one more case - the new and yet successful title Go Knots 3D by Rollic Games. The game launched on March 19, starts to actively run in-app advertising on April 4 and that immediately brings a bunch of downloads.
As for the advertising format, video is always the most popular ad creatives format. 70% of all in-app ads are video. If the gameplay is clear and satisfying the only look at the ad may be enough to download the app.
As said, running in-app advertising can be a tough process with a lot of time and money spent on testing and optimizing ad. However, it can be greatly simplified by reviewing and adapting best technics.