Apex Legends Mobile Success: Genius Marketing or the Power of a Name?
Much anticipated Apex Legends Mobile by Electronic Arts had more than 2,4 m downloads in Google Play and 2,9 in App Store in just 5 days – and surely this is not the limit.

But why was the success of Apex Legends Mobile so stunning? In this article, we are going to analyze its way to the top – from the marketing and user acquisition side, of course.

Chronology

Originally, Apex Legends was a PC game by Electronic Arts that was released in 2019. In April 2021, the company first announced an upcoming mobile version of this game.
In spring 2021, the first round of closed beta was conducted, and this version was only available for Android users. This marked the beginning of a series of testing: later their geography was expanded, and iOS users also had the opportunity to try the new game.

Pre-registration for the early birds that use Android devices began in March 2022. For some reason, iOS gamers did not have a chance to pre-register for the upcoming title.

The global release date for Apex Legends was set for May 17, 2022, and EA managed to release the game exactly on the scheduled day. At the end of that day, the new title was available on both Android and iOS platforms and for players from all over the world.

On May 17th this mobile title appeared in top charts for the first time, and the next day it took first place in 6 different categories in Google Play and 4 in the App Store. But what could have caused Apex Legends Mobile to gain the number of downloads so quickly?
App promotion strategies

Let's put aside the fact that the original PC title has already gained a strong fan base and look at this case from the marketer's side.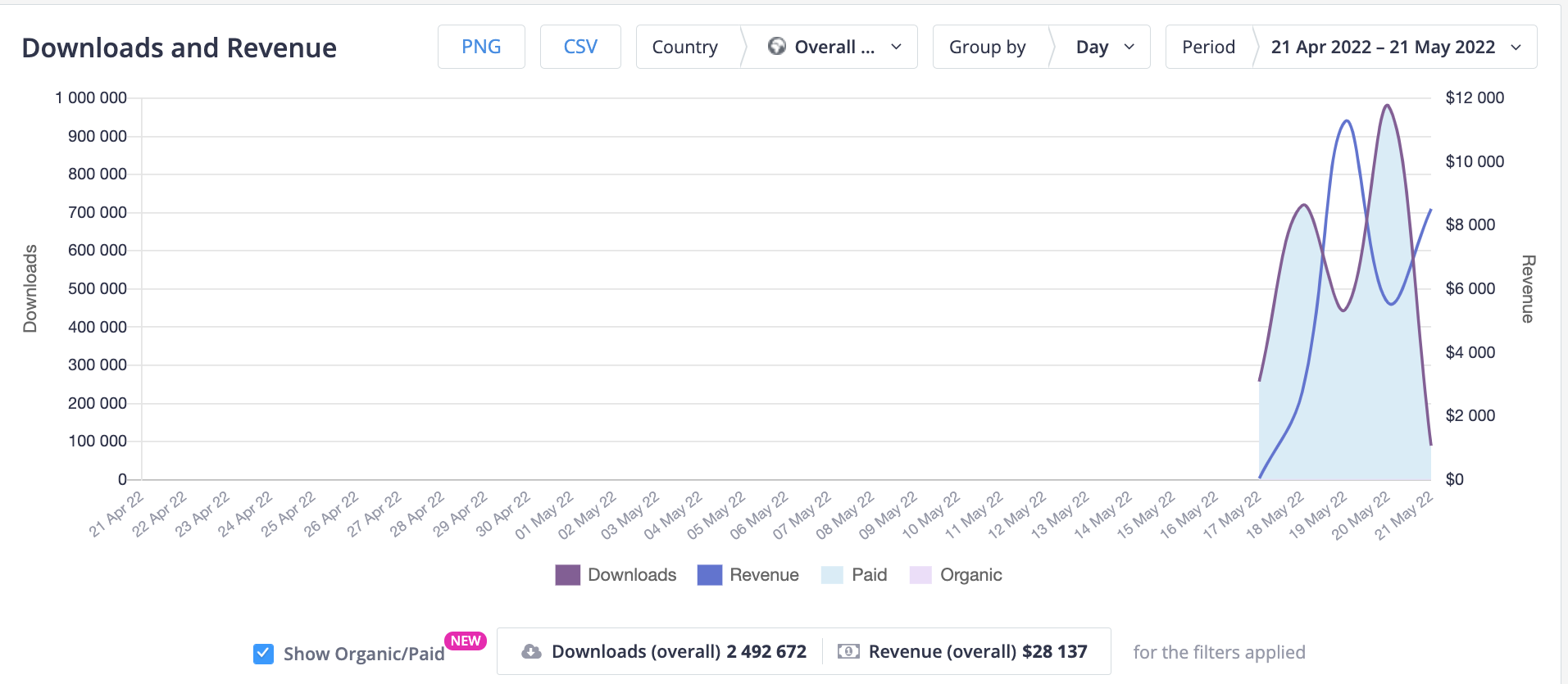 Apex Legends Mobile Twitter account has published the first post two months before the launch (and has gained more than 90 thousand followers in 60 day, which means that around 1500 people have subscribed daily). But the publisher was not confined to Twitter only – many media and other sites wrote about this high-profile novelty – and continued to do that after the official release.

Another crucial part of user acquisition is in-app advertising – and it was definitely on point. Apex Legends Mobile ad creatives were running since March 2022. In total, in circa 2,5 months more than 1,8 thousand ad creatives for Android and one thousand creatives for iOS platform were released.
For this kind of paid games promotion, the publisher used not only static images and video creatives, but also interactive ads. It also used 8 different mobile ad networks – just to be sure.
Last but certainly not least – search ads. Apex Legends Mobile used more than 1000 paid keywords in total on both mobile platforms.

However, the success would not have been that resounding without the company's background. Electronic Arts has created dozens of games, some of which became extremely popular or even legendary. And that is why the mobile world has welcomed its new title warmly – and with millions of downloads.