In-App Advertising Campaigns. Where to find creativity?
Brands, agencies and marketers no longer focus only on mobile Web.
In-application advertising is rapidly growing sector of mobile advertising on the market. According to BI Intelligence, United States app-install ad revenue is estimated to grow to more than $7 billion by year-end 2020. In-app advertising continues to grow with expenditure accounting for 96% of global ad spend on the Smaato platform.
In-app advertising is more than just hype it is a must for marketers nowadays. Why?
It offers marketers a better opportunity to target the right audience at the right time;
It captures targeted consumers' attention and encourage them to interact without interruption;
For starters, in-app advertising offers a higher click-through rate than web advertising;
In-app advertising works because it is enhanced by location data and geo-targeting;
Users are spending more and more time in their apps;
In-app ad campaigns reach and engage customers at the moment they are active in the app and more receptive.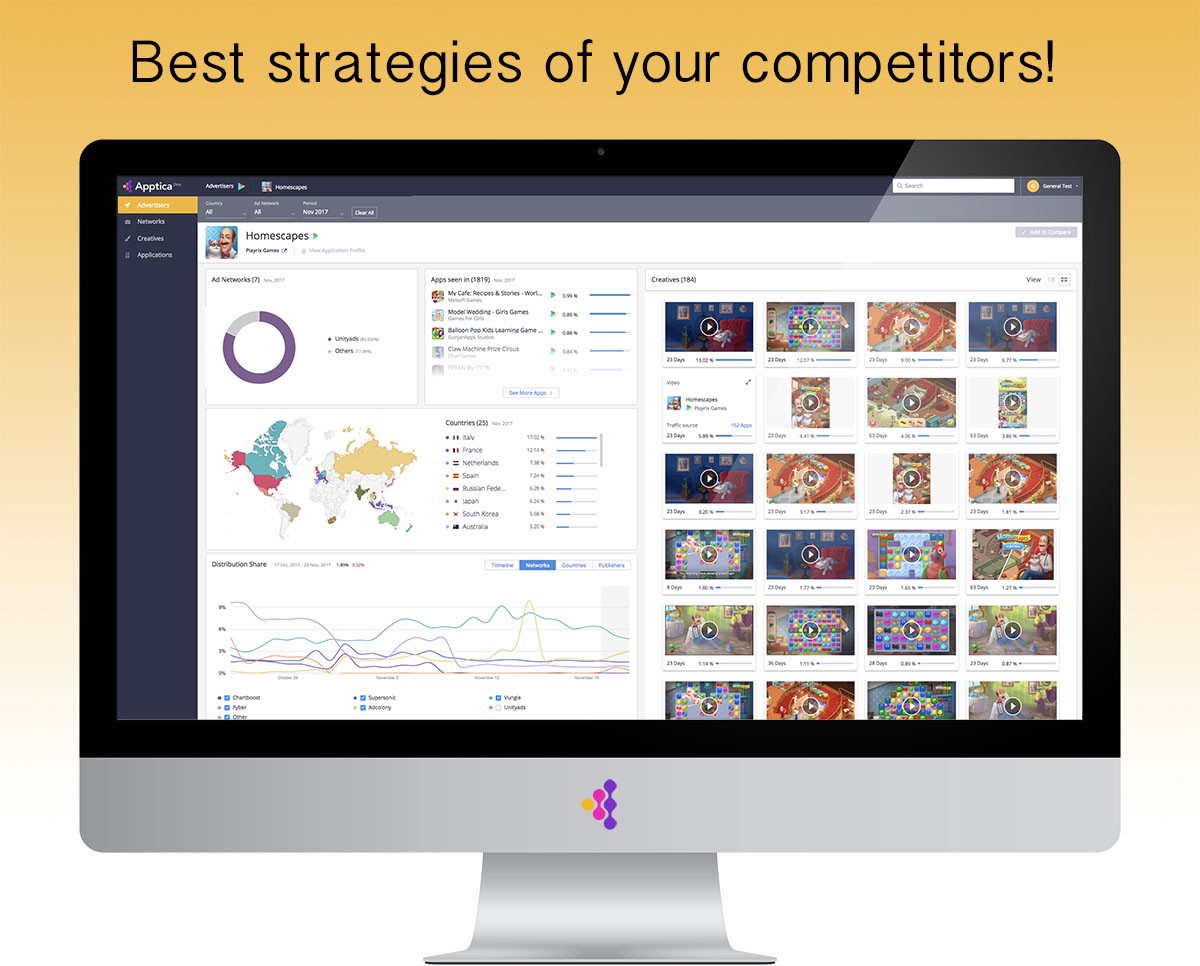 Creating in-app ad campaigns is a smart strategy
Creating ad executing in-app mobile marketing campaign is a process that involves multiple steps. Learning those steps takes time. Finding the right way for your brand to use mobile marketing is an ongoing process and effort, with the potential for long term benefits.
Marketers should consider also the following factors when developing an in-app ad campaigns:
Knowing your intended audience can help you decide which ad network you should target and where to buy traffic. If you don't know who is your ideal audience is, no worries, you can easily find it by running campaigns through various ad networks. Testing and testing. Or find it in in-app ad monitoring services.
Find the best ad partner that fits your needs. Determine which ad network, agencies or providers to use. If you're just starting, it's important to test as many different ad networks as possible.
Perfect in-app ad formats
It's is not easy to find best working ad format, all depends of goals and testing results.
For the in-app ad strategy and campaigns be more effective, better to think of adding all creative types in it — banners, full-screen interstitial ads, video, playable ads and other mobile ad types, experiment with it and A/B test it.
Video is really helpful for a new brand recognition as it illustrates what the brand is doing.
Ads may be too big for the app or to be at the place where it is easy to ignore them. There should be the gold middle to allow users observe your ad without being intrusive.
Understand your CPI (Cost per Install)
You need to know what the lifetime value (LTV) of a user is to you. Bear in mind that value of an Android user different that and iOS user. It will help you to decide marketing budgets and forecasting. LTV should be greater than your CPI to gain revenue.
How much time it takes to create and execute in-app ad campaign? To get the best results from your A/B tests, run a handful of them, and refresh your creatives every two to three weeks. Your creative team may have a good idea of a strong ad creative, but anyway you need to test your ads' performance to verify their intuition.
Measure, measure, and measure
Measure initial ad performance, analyze install volumes, click-through rates, and conversion rates will help you to identify and improve inefficiencies in different aspects of creative design.
Sounds a bit time-consuming and expensive…
After reading all information above arise a lot of questions:
How other brands used mobile marketing to reach the target audience? What worked and what didn't. Are there any best practices for that type of ad campaign? What are the apps where they buy traffic and get their audience? What are the partners they work with? Which in-app ads work? Where to find creativity, case studies, to see active and already running in-app ad campaigns?
In Apptica.com you may explore in-app advertising insides.
Monitor Top in-app ad campaigns with most effective formats and creatives around the world, across all categories and countries. Analyze in-app traffic sources, find new customers, track competitors and advertiser's activity.
Final Thoughts
Various trends in mobile quickly become new standards. Successful ads from previous years, from other sources and platforms might not work nowadays. Creatives will continue to be fundamental to success in the in-app space. They should be treated as an investment and best in-app ad strategies should be studied carefully, implemented in your marketing plan and tested. Keep in mind that spending some time on analytics and monitoring in-app best cases is the secret to increase your revenue without losing customers.